HiveMQ Edge 2023.5 is Released
Written by HiveMQ Team
Category: HiveMQ Edge
Published: September 26, 2023
What's new in HiveMQ Edge 2023.5
HiveMQ Edge is a gateway that utilizes an edge-optimized MQTT broker to connect multiple endpoints and streamline your operations seamlessly. By standardizing edge data and providing support for a diverse array of IT/OT connections, this software offers a scalable and flexible solution for directing data into your core infrastructure.
HiveMQ consistently incorporates user feedback to enhance their product and introduce new features.
Discover the latest release updates below.
Highlights
Workspace
New HTTP Protocol Adapter
More Open Source Contributors
Workspace
Workspace is a new tool that allows you to instantly view active client and bridge connections and visualize multiple connections to HiveMQ Edge.
How it works
The new workspace function in HiveMQ Edge is an interactive canvas displaying all connected elements at the edge. Status information and metrics are updated in real-time. Custom metrics of each protocol adapter can be visualized at hand.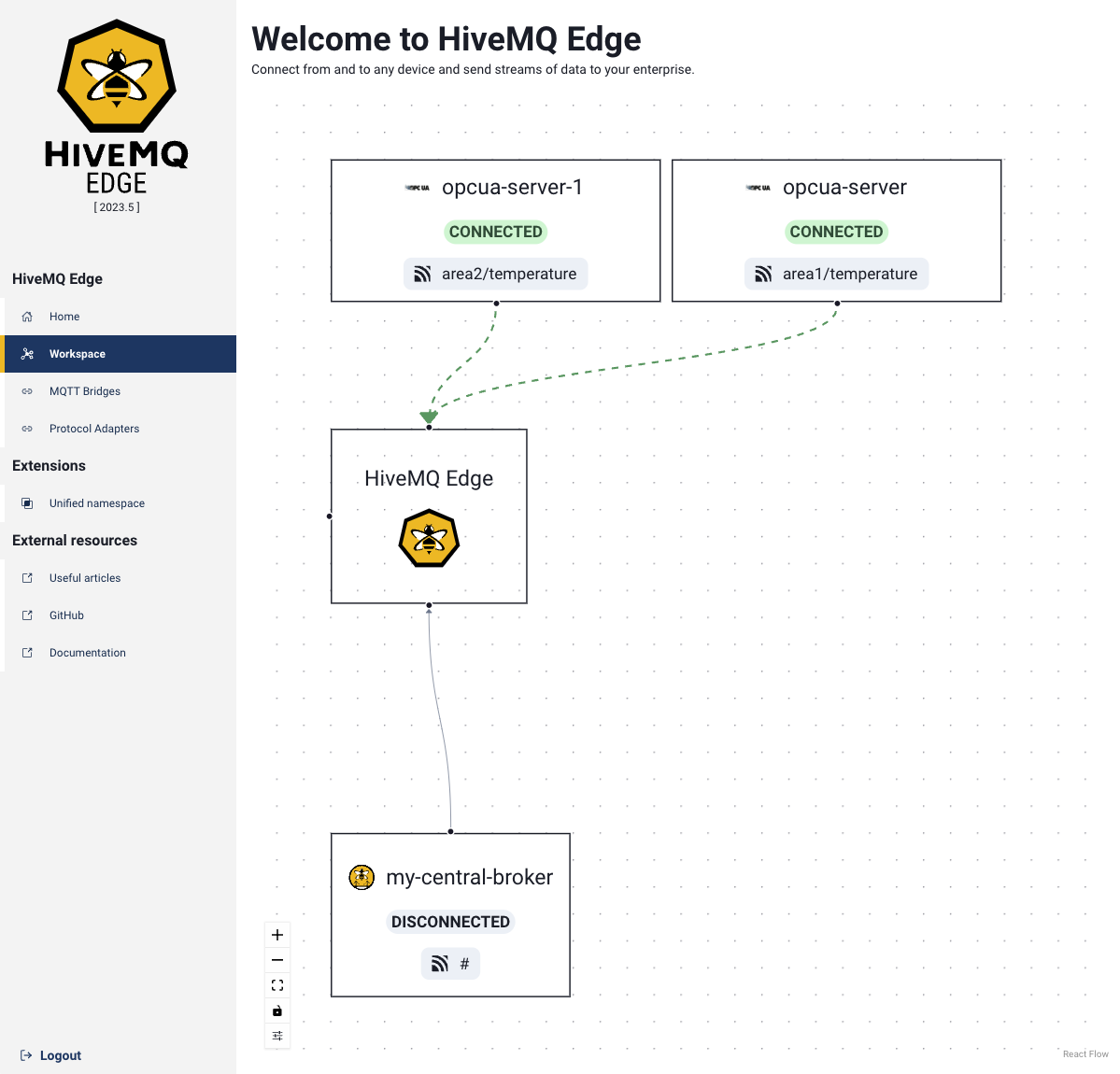 How it helps
Workspace offers a topology view that visualizes data flow from edge devices to a central MQTT Broker in HiveMQ Edge, providing greater observability of adapted connections.
HTTP Protocol Adapter
Our new HTTP Protocol Adapter enables data to be collected from HTTP sources and transformed into MQTT messages.
How it works
HTTP is a standardized protocol primarily used in web applications, providing the browser with content like HTML. Moreover, many HTTP-based data sources are available, e.g., on factory floors, providing an endpoint with metrics about smart devices, sensors, machines, etc.
This mechanism helps bridge the diverse set of custom factory protocols into an HTTP-based solution in some scenarios. The new HTTP adapters can request data from an endpoint at a configurable interval.
How it helps
You can now extract data from HTTP sources like metrics and logging endpoints and convert it into MQTT messages. This enables you to transform HTTP request-response workloads into an MQTT publish-subscribe data-in-motion strategy that your MQTT solution can transport.
Additional Features and Improvements
You can find more information about and download the release on the GitHub release page.
Special Mention
The release received valuable backing from a fresh contributor, Bogdan Stirbat. We appreciate your support!
Get Started Today
Get started by running
docker run --name hivemq-edge -d -p 1883:1883 -p 8080:8080 hivemq/hivemq-edge
or clone our repository
git clone git@github.com:hivemq/hivemq-edge.git
About HiveMQ Team
We love writing about MQTT, IoT protocols and architecture in general. Our experts are here to help, so reach out to us if we can help!
Contact HiveMQ