Why should you underpin your Azure environment
with a full-featured MQTT Broker?
Ingest IoT data from geo-distributed infrastructure into Azure.
Easily distribute workloads such as analytics and storage between on-premises deployment and various clouds.
Quickly solve issues and troubleshoot IoT data that is inside a 'black box' in Azure.
Gain all the benefits from the latest features in MQTT 5 and IIoT specifications like Sparkplug.
Get reliable connections with millions of devices in technically challenging environments.
HiveMQ gets all your IoT data into Azure
and helps you unlock its true value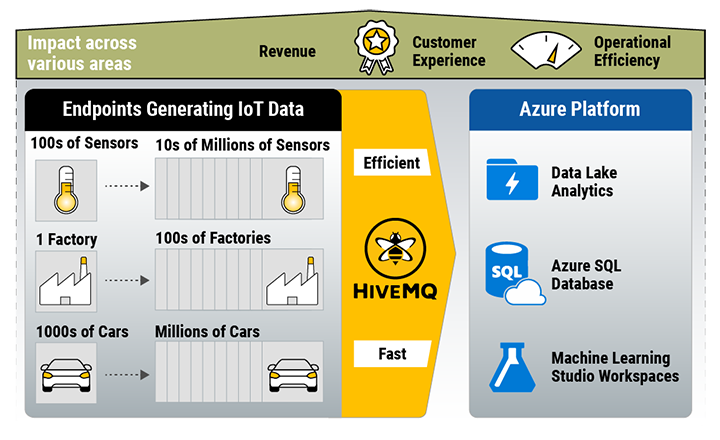 HiveMQ delivers tangible value to IoT customers on Azure across Connected Cars, Manufacturing, Industrial Automation and many other verticals.
Businesses choose HiveMQ's MQTT platform to work with Azure for better machine learning and analytics outcomes because we offer:
Reliability
Attain High Availability with clustering, no data loss regardless of network quality, highly-rated 24x7 customer support, and zero downtime.
Flexibility
Deployed on-premises or Cloud, HiveMQ's MQTT broker supports MQTT protocol versions (MQTT 3.x, MQTT 5.x), standards like Sparkplug, and offers pre-build extensions for integrations like Apache Kafka and InfluxDB.
Simplicity
Quick set up with tools for easy containerization with a Kubernetes Operator and Helm Charts for ROI.
Scalability
Scale to 10s of millions of devices reliably, efficiently and securely with built-in functionality like masterless clustering.
Observability
Get visibility and control of connections and clients with our feature-rich Control Center. Tools like Trace recordings and 1500+ metrics help remove blind spots in application workflows and maximize the value of your APM investments.
Security
Adapts to your security posture with full support for TLS, Open SSL and features like Connection Overload Protection to thwart denial of service attacks.