HiveMQ Partners
Fostering collaboration in the vendor community to create successful IoT customer deployments.


Consulting/Training Partners
Join our Partner Ecosystem
We want to collaborate with companies that are passionate about delivering high-quality production IoT systems to customers. Join us in making MQTT and HiveMQ the platform that companies can rely upon to deliver fast, reliable and scalable messaging for connected devices.
Partner Benefits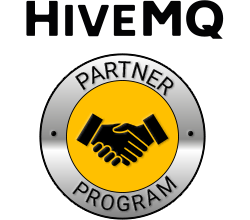 Product Support
Access to technical support
Prioritize feature request handling and access to product roadmap
Access to free evaluation license of HiveMQ Enterprise
Access to enterprise SDK
Certification
Developer certification for HiveMQ extension development
Marketing Support
Listing on HiveMQ Partner Catalog
Preferred listing for extensions on HiveMQ Marketplace
Joint press releases
Social media outreach and promotion
Article placement in HiveMQ newsletter
Joint development of collateral, use cases and webinars
For resellers, commission on registered opportunities
Join now