HiveMQ helps companies connect devices to the Internet. We make it possible to move data from device to cloud in a secure, reliable and scalable manner. Over 130 customers, including many Fortune 500 companies, rely on our product in production for mission critical use cases like connected cars, logistics, Industry 4.0 and connected IoT products.
Founded in 2012, HiveMQ is headquartered in Landshut, Germany (close to Munich). In 2018, HiveMQ (formerly named dc-square) was named in the Deloitte's Technology Fast 50, a prestigious award that recognizes fast growing German companies. HiveMQ's revenue has grown over 1200% from 2013 to 2017 placing the company as the sixth fastest growing startup in Germany.
---
In 2020 Focus Business in association with Kununu compared German companies in different industry sectors concerning their employers qualities. HiveMQ was awarded as "Top Arbeitgeber Mittelstand 2021" (top employer middle class 2021).
---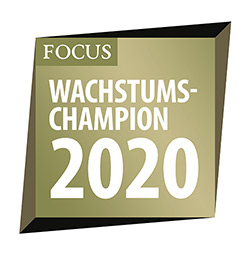 In 2019, Focus Business has been looking for "Wachstumschampions 2020" (growth champions) - a list of the top 500 companies throughout Germany that have achieved high sales growth between 2015 and 2018. Out of 500 companies, HiveMQ was ranked 49th overall, and 7th (out of 75 companies) in the Internet, Software & Services industry.
---
In 2018, HiveMQ was accepted into the German Accelerator, an acceleration program that supports German companies to enter the US market.
Our flagship product, HiveMQ is a MQTT based messaging platform designed for the fast, efficient and reliable bi-directional movement of data between device and the cloud. HiveMQ features:
MQTT broker that scales to 10 million connected devices
Elastic clustering for extreme reliability and fault tolerance
Real-time monitoring of device data
Designed to secure the IoT data from device to cloud.
Flexible extension framework for easy integration into existing enterprise systems.
Our customers are using HiveMQ as the core infrastructure platform for building new digital and state-of-the-art products. They recognize that HiveMQ and MQTT are the best way to create fast, reliable and cost efficient IoT applications.
Leadership Team