HiveMQ at AWS re:Invent: Building Scalable IoT Systems with MQTT and AWS
by
Allison Yrungaray
5 min read
AWS re: Invent 2023 is just around the corner from November 27 - 30, and HiveMQ is thrilled to be exhibiting for the first time. As the most trusted MQTT platform, we are set to share how attendees can enable and scale their IoT deployments with seamless MQTT data integration to AWS. From the HiveMQ booth #1628 to our speaking session, visit us at the event and read on to learn more about how HiveMQ combined with AWS enables IoT systems at scale.
HiveMQ + AWS for Seamless IoT
HiveMQ provides a comprehensive solution for seamlessly connecting IoT deployments and systems to AWS infrastructure. Our platform is trusted for its ability to handle massive amounts of data and device connections, making it an ideal choice for companies seeking to scale their IoT solutions on AWS. In the realm of cloud hyperscaling, AWS establishes the benchmark with its remarkable computing power and advanced analytics services, and HiveMQ plays a vital role in assisting enterprises to leverage these capabilities at scale.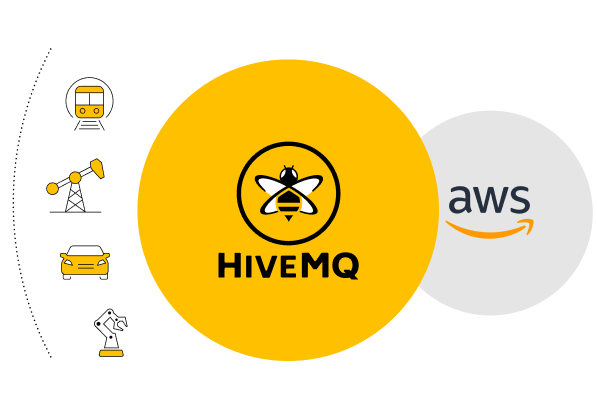 HiveMQ is the enterprise choice for MQTT and overcomes the following challenges at scale for AWS customers:
Consistent, bi-directional mapping of IoT device data to AWS systems, including Amazon Kinesis, AWS-managed Kafka, and extending to Amazon S3.

Cost-effective communication between millions of IoT devices and AWS services

End-to-end visibility and observability of IoT devices from within the AWS ecosystem

Data integration of IoT devices to the data lake for data science analytics and exploration
At AWS re: Invent, we'll demonstrate how the HiveMQ platform moves MQTT data into AWS services. The Amazon Kinesis extension enables seamless bi-directional MQTT data exchange between IoT devices and the AWS Cloud via Amazon Kinesis Data Streams. This integration allows AWS to leverage the data across multiple services such as Redshift, Firehose, Lambda, SageMaker, QuickSight, and others. Additionally, the Data Lake Extension provides robust storage solutions for IoT data in Amazon S3 while ensuring easy integration with various data applications, like Databricks and AWS data lake offerings.
Attend our AWS re: Invent Speaking Session
Attend HiveMQ CTO Dominik Obermaier's lightning talk, "Building scalable IoT systems with MQTT and AWS," which will delve into the pivotal role of a robust MQTT platform in creating scalable IoT systems seamlessly integrated with AWS. The session will explore architectural patterns that harness MQTT communication capabilities with AWS services such as Amazon Kinesis, Amazon DynamoDB, Amazon Timestream, and AWS Lambda. Gain unique insights into translating MQTT to AWS paradigms and discover how HiveMQ's expertise empowers IoT deployments to thrive on AWS.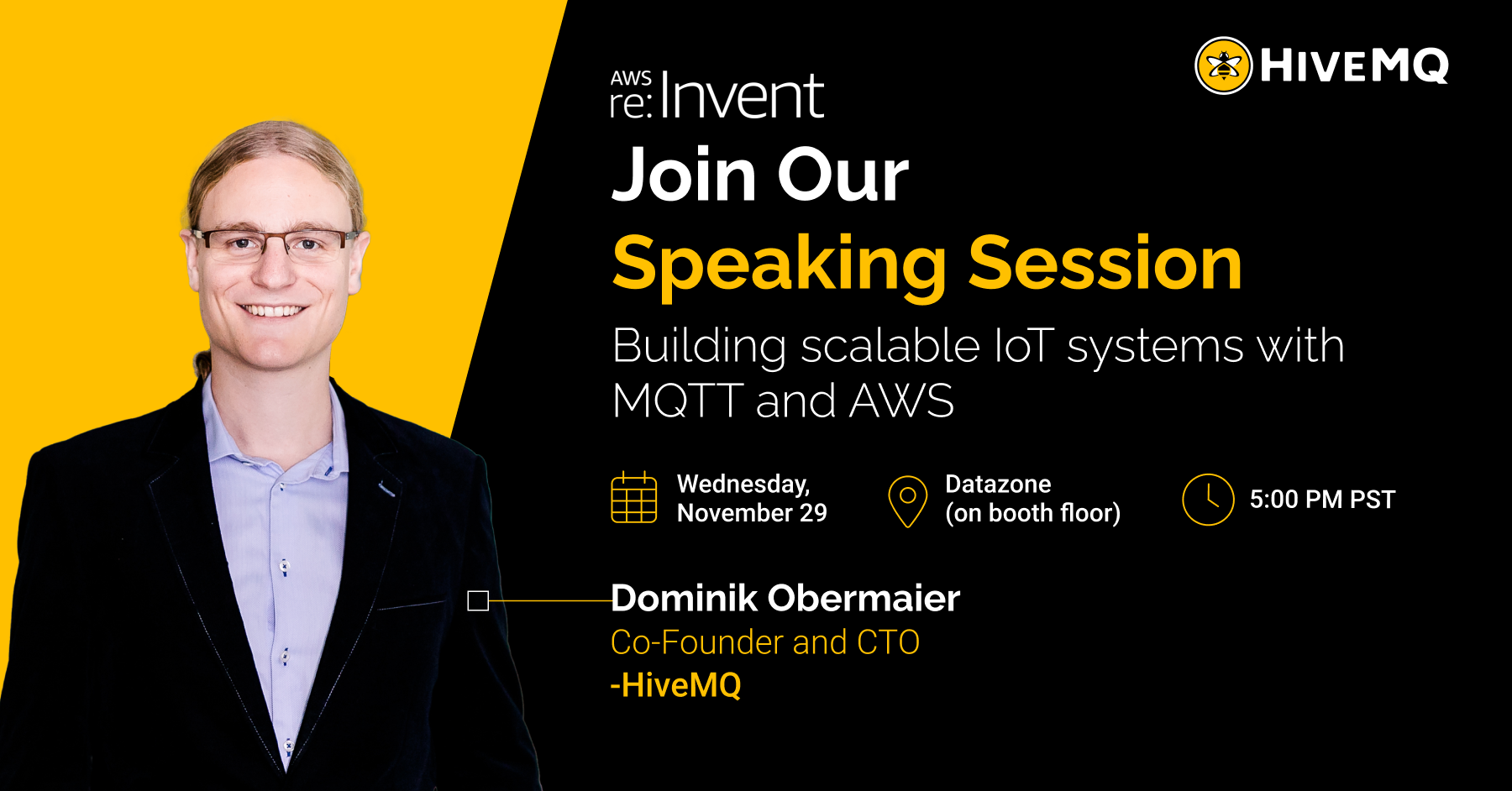 We hope you'll visit us at AWS re: Invent next week. Stop by booth #1628, see a demo and let us answer your questions. We'll show you how HiveMQ can help you overcome challenges to move MQTT data into AWS systems at scale. 
If you're ready to learn more now - it's simple. Sign up for HiveMQ Cloud Starter (fully-managed) plan on AWS and get one month free with this promo code: REINVENT2023. Or use our AWS AMIs to deploy HiveMQ in the region of your choice.
Allison Yrungaray
Allison Yrungaray is Director of Communications at HiveMQ. She has 20 years of experience in high-tech marketing and public relations, much of it focused on the Internet of Things. She has written hundreds of technical articles and achieved media placements in the Wall Street Journal, New York Times, Forbes and other leading publications.