Getting started
Install HiveMQ
Pre-installation Requirements
To install HiveMQ, you need Windows, Linux, or Mac OS X with Java Runtime Environment 11 or newer. For a more detailed list of requirements, see HiveMQ System Requirements.
Unpack and run on Linux/Mac OS X
Go to the directory where you placed the download and unpack the ZIP archive, open a terminal window and enter the following commands:
1


2


cd

 <hivemq_install_directory>
unzip hivemq-<version>.zip
To go to the bin folder of the install directory and set permissions (the typical location is /opt/hivemq/). The chmod 775 command gives the user/owner and groups read, write, and execute rights. All others have read-only access:
1


2


cd

 <hivemq_install_directory>/bin
chmod 

755

 run.sh
To run the shell script and get HiveMQ started, enter:
Unpack and run on Windows
Use your file browser to extract the ZIP archive to the directory of your choice.
To start the batch file, open the bin folder and double click run.bat.
By default, the HiveMQ broker starts on localhost IP address 127.0.0.1 and listens on port 1883.
Verify that HiveMQ is running
Navigate with your browser to http://localhost:8080. If you see the login dialog for the HiveMQ Control Center, you know that HiveMQ is up and running.
The HiveMQ Control Center is part of the standard HiveMQ distribution and is a web application that you can access from your browser. You do not need to install any additional software on your computer to use the control center.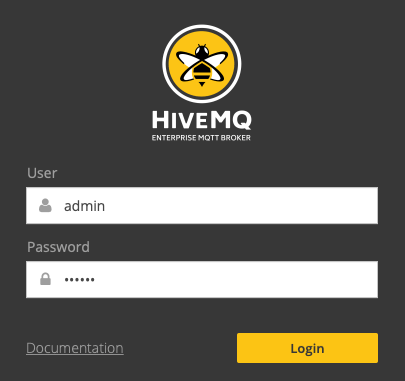 You can login with the default credentials (user: admin password: hivemq)

Any MQTT client can be connected to HiveMQ on port 1883 now.