1.

Download and run HiveMQ

Running the HiveMQ trial with Docker is the simplest way to experiment with HiveMQ and MQTT. The following command downloads and starts a single HiveMQ trial node:


| | |
| --- | --- |
| 1 | $ docker run -p 8080:8080 -p 1883:1883 hivemq/hivemq4 |
Make sure Docker is installed before running this command.
---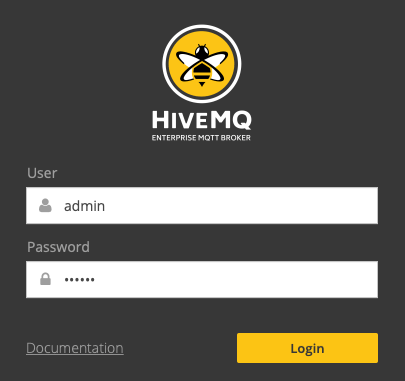 2.

Try out

Navigate with your browser to http://localhost:8080 and open the HiveMQ Control Center. If the HiveMQ Control Center is available, HiveMQ is up and running.

You can login with the default credentials:
User: admin
Password: hivemq

Any MQTT client can be connected to HiveMQ on port 1883 now.
---
3.

(optional) Build a MQTT cluster

For production use cases, we recommend to use a cluster of HiveMQ nodes. You can learn more about using Docker together in HiveMQ in production on Dockerhub. Openshift and Kubernetes are supported as well.
---
4.

Try HiveMQ K8s Operator

HiveMQ can be deployed on-premise or a managed cloud environment. Our Kubernetes Operator for HiveMQ makes it easy to deploy HiveMQ to any Kubernetes environment.
---
5.

Your next steps

Ready for the next step? Get your evaluation license which allows you to try out HiveMQ without limitations on Docker. Contact a HiveMQ expert today and get the best out of your HiveMQ trial.
Keep up to date about HiveMQ
---
Keep up to date
about HiveMQ