Introducing HiveMQ Cloud Starter: Unlimited Connections on the Cloud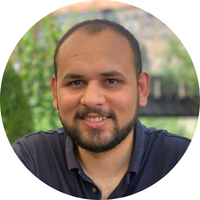 Written by Shashank Sharma
Category: HiveMQ Cloud
Published: June 27, 2023
Today we released HiveMQ Cloud Starter, a complete cloud-native MQTT platform for testing and small-scale production. With this new offering, developers and IoT architects can enjoy an easy-to-use and affordable solution that eliminates connection limitations, enabling seamless scalability.
HiveMQ Cloud Starter builds upon our existing Serverless and Enterprise plans, addressing the growing demand for fast and cost-effective scaling of IoT projects. It is the first MQTT platform designed to provide a pay-as-you-grow solution with unlimited connections, empowering companies of all sizes to embark on their IoT journey.
Companies from startup to enterprise can deploy IoT projects with HiveMQ Cloud Starter by building out experiments or small-scale production, then effortlessly scale up to a more advanced plan that offers enterprise-grade features like observability, enhanced support, or custom integrations. HiveMQ Cloud Starter encompasses the reliability, security, scalability, and seamless IoT data movement HiveMQ is known for, making it the ideal choice for rapidly procuring a production-ready MQTT platform.
Rapid Deployment with HiveMQ Cloud Starter
HiveMQ Cloud is a cloud-native MQTT platform designed to allow companies to develop, deploy, and scale production IoT use cases without worrying about setup, updates, or maintaining infrastructure. Our free HiveMQ Cloud Serverless option has already attracted a dedicated user base, while the Enterprise offering has helped customers like Paxton optimize their engineering and DevOps resources through fully-managed IoT messaging.
The new HiveMQ Cloud Starter plan works to fill the gap for customers who are ready to move beyond experimentation but not yet prepared for large-scale production. The Starter Plan comes with the following features:
Unlimited connections: Unlike traditional pricing models, our unique offering charges a fixed base price per hour and per million messages, independent of the number of connections. This decouples costs from connection counts, allowing companies to fully leverage the potential of their IoT devices without any limitations.
Fully-Managed: HiveMQ Cloud Starter eliminates the need for downloads or complex infrastructure management. Enjoy a seamless, hassle-free experience with an uptime SLA of up to 99.95% with up to 24/7 support.
Easy to get started: Adopting a production-ready IoT messaging platform has never been easier. Any size company can sign up for 100 USD worth of free credits for HiveMQ Cloud Starter. Our intuitive onboarding process and in-product user experience ensure rapid acquaintance with the platform.
100% MQTT compliant: We are fully compliant with the MQTT protocol. which means users can connect the platform to other MQTT-compliant services without any fear of vendor lock-in. Cloud Starter plans offer the same rich MQTT support that other HiveMQ customers love.
HiveMQ Cloud Starter Offers Rich Functionality
The new HiveMQ Cloud Starter plan includes a self-service, dedicated broker deployed in a cloud-native Kubernetes environment. Users get exclusive access to a single-tenant broker with some exciting functionality for MQTT security, observability, and IoT workflows.
Built-in MQTT Security
The MQTT security features included in HiveMQ Cloud Starter give users greater control over access, roles, and permissions associated with MQTT clients, making any project secure by design. These features include:
Create client access credentials
Assign role-based permissions to clients
Allow retained messages
Allow shared subscriptions
Topic filters and wildcard support
Quality of Service (QoS) permissions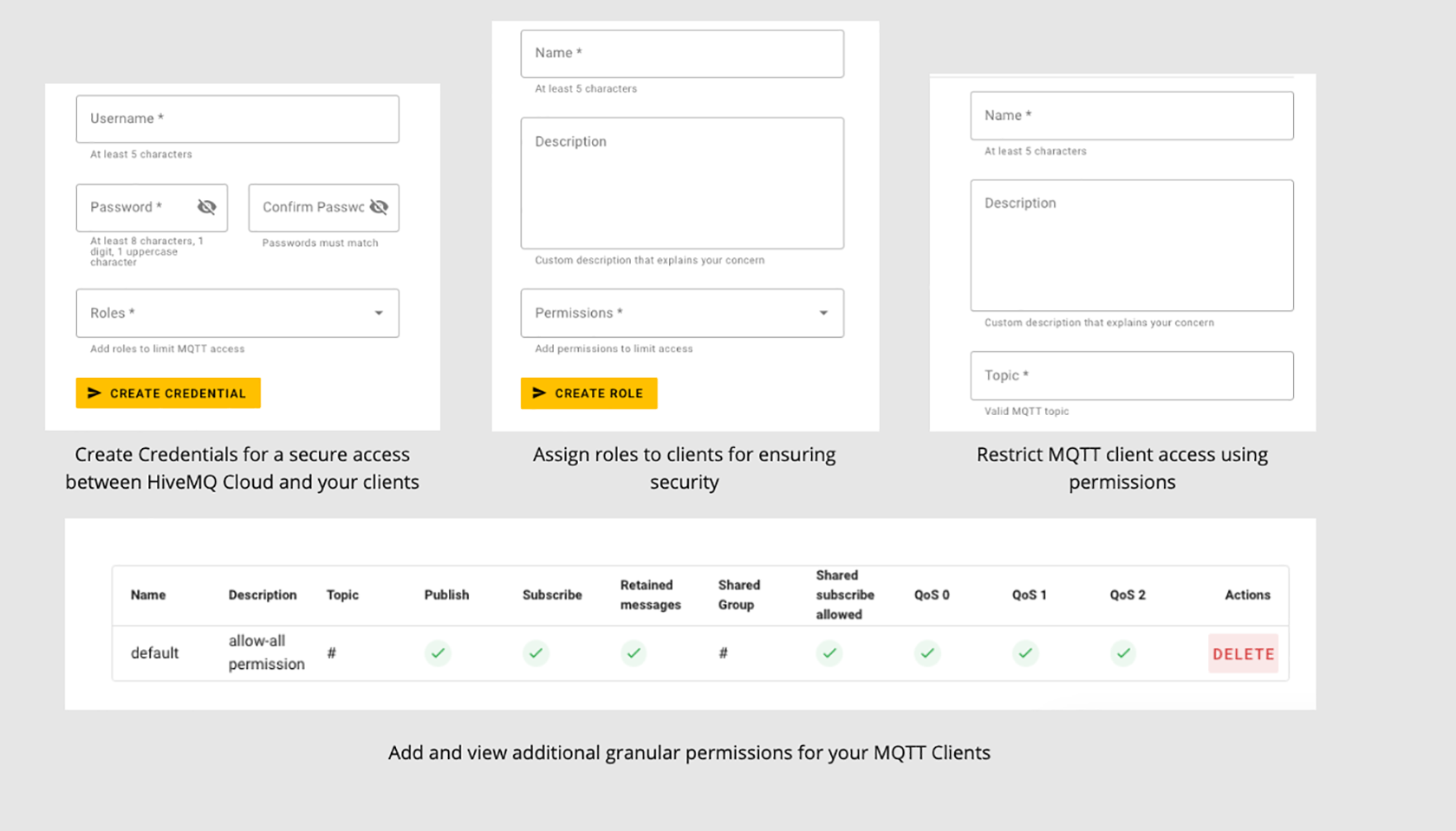 Observability via HiveMQ Control Center
The HiveMQ Control Center is included with the HiveMQ Cloud Starter plan, allowing users to observe and administer IoT projects easily, gather insights, and debug with ease. The HiveMQ Control Center includes dashboards, metrics, and notifications that allow administrators to view and manage connections, subscriptions, and retained messages.
Features include:
Dashboard for deployment and KPI overview
List of all connected clients in the cluster
Disconnect MQTT Clients using the drill-down user interface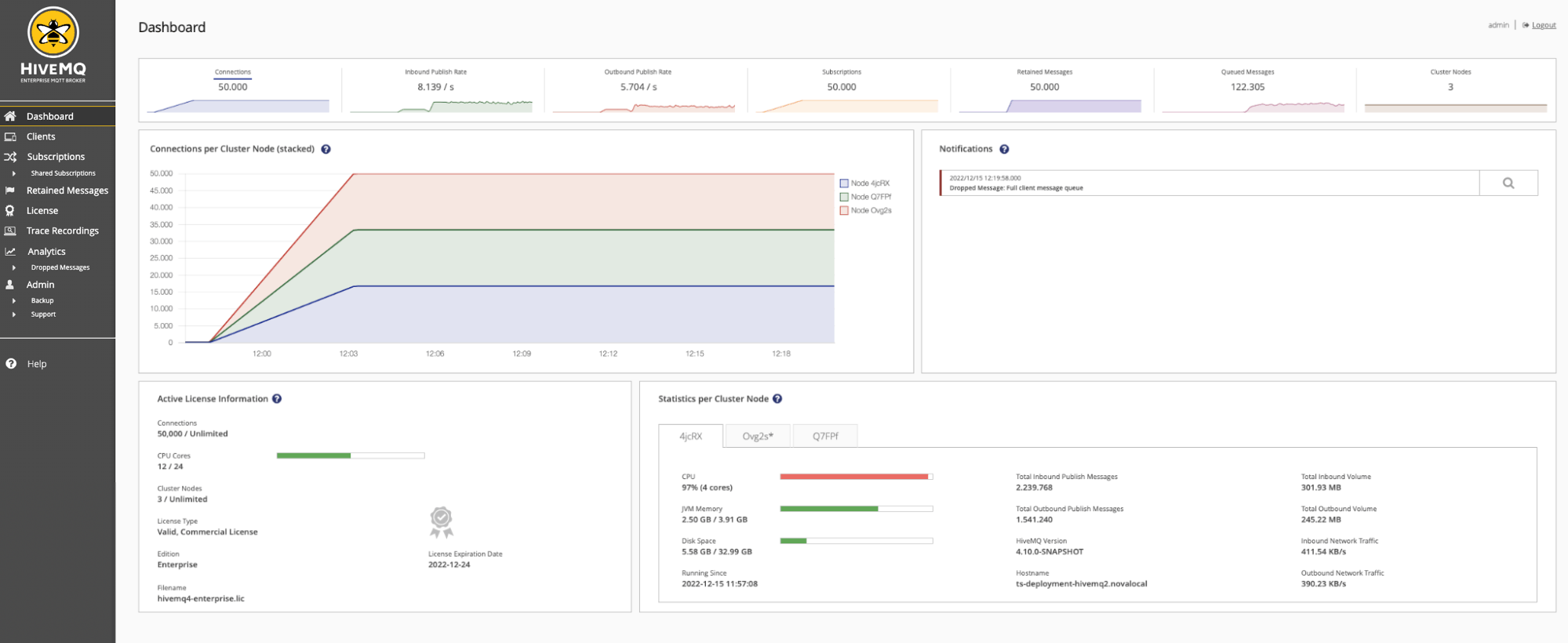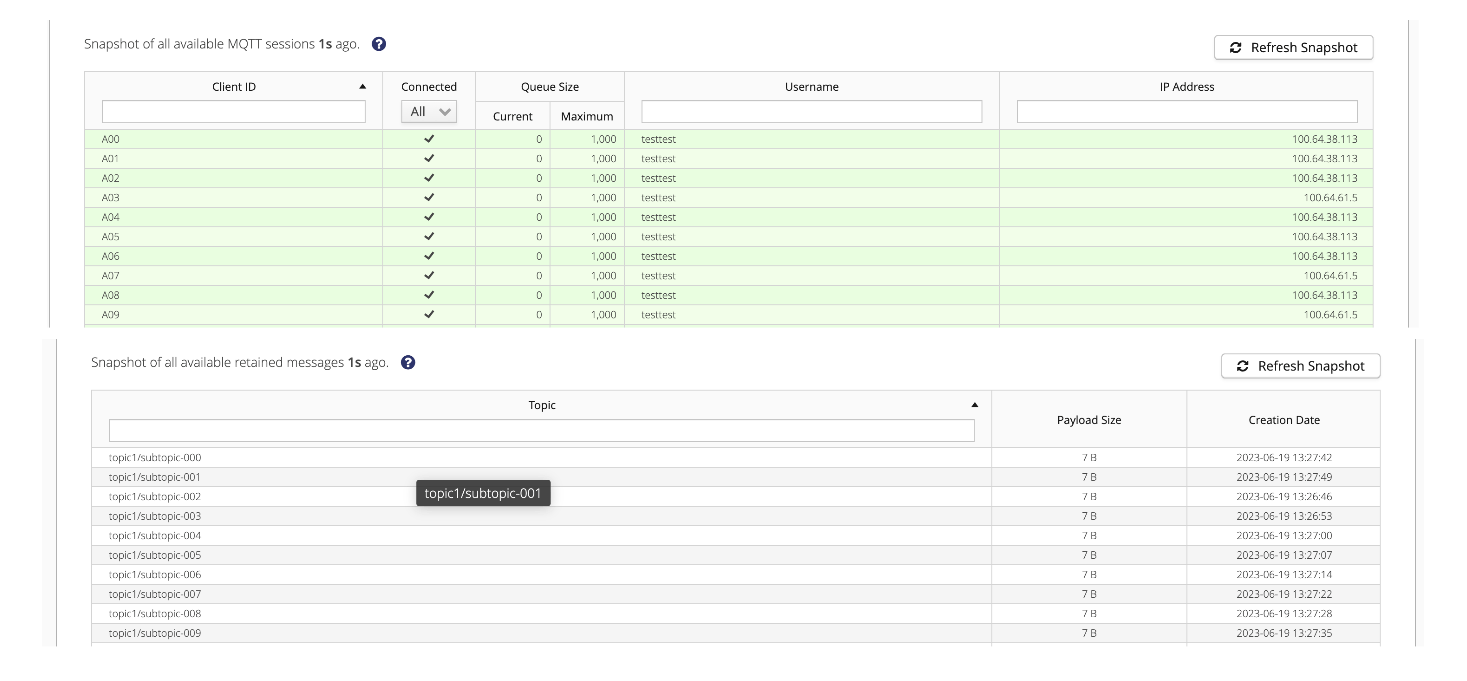 Power Workflows with Broker REST API Access
The Cloud Starter plan offers access to the Broker REST API to enable programmatic workflows. Since REST is language agnostic, users can choose their favorite programming language for building IoT workflows. The Broker REST API allows users to be independent from the graphical workflow should they choose, and helps manage IoT projects programmatically with ease.
The Broker REST API allows users to perform tasks including:
Listing all MQTT clients
Getting detailed information about a specific MQTT client
Listing all subscriptions for a particular MQTT client
Viewing the connection status for a specific MQTT client
Disconnecting a specific MQTT client
Deleting/invalidating the session of one particular MQTT client
Coming Soon: HiveMQ Cloud Professional
Alongside the launch of the new Cloud Starter plan, we are excited to announce our commitment to supporting customers throughout their IoT deployment lifecycle. At HiveMQ, we understand the diverse needs of our users, which is why we are actively developing a more feature-rich Cloud Professional plan. Join the waitlist to be among the first to access this advanced offering.
Together, the Starter, Professional, and Enterprise plans will provide a cloud-based MQTT Platform to suit any stage of IoT deployment and budget. From a pilot or proof-of-concept (POC) to large-scale roll-outs, we are committed to providing a scalable, reliable platform that grows with any project or use case.
Get Started with Cloud Starter
HiveMQ Cloud Starter delivers seamless and effortless integration of MQTT data, catering to the needs of both developers and enterprises. There has never been a better time to begin your IoT journey, as we are currently offering 100 USD worth of free session credits to new users when they create their first Cloud Starter cluster. Signing up is quick and easy, and creating the first cluster takes just minutes.
For more details on our Serverless, upcoming Professional, or Enterprise plans, please visit our pricing page. We provide detailed insights into the features and benefits of each plan, empowering you to make the best choice for your specific requirements.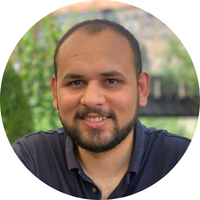 About Shashank Sharma
Shashank Sharma is a product marketing manager at HiveMQ. He is passionate about technology and enabling developer-centric workflows. He has previous experience in application software tooling, autonomous driving, and numerical computing.
Contact Shashank