Overview
HiveMQ Cloud now grows with your needs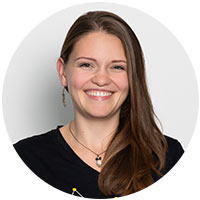 Written by Magi Erber
Category: HiveMQ Cloud Cloud
Published: August 11, 2021
Easily get started with MQTT using HiveMQ Cloud for free
One of the core principles of HiveMQ has always been to provide you with everything you need to get started easily and quickly. With HiveMQ Cloud Free (formerly Basic), we have released a fully managed MQTT broker to help anyone get started with MQTT. The plan gives you a managed MQTT broker in the cloud that allows you to connect for free up to 100 MQTT client sessions and 10 GB of free traffic. In addition, you get easy and quick onboarding guides for several MQTT client libraries and tools. This is optimal to get started in just a few minutes.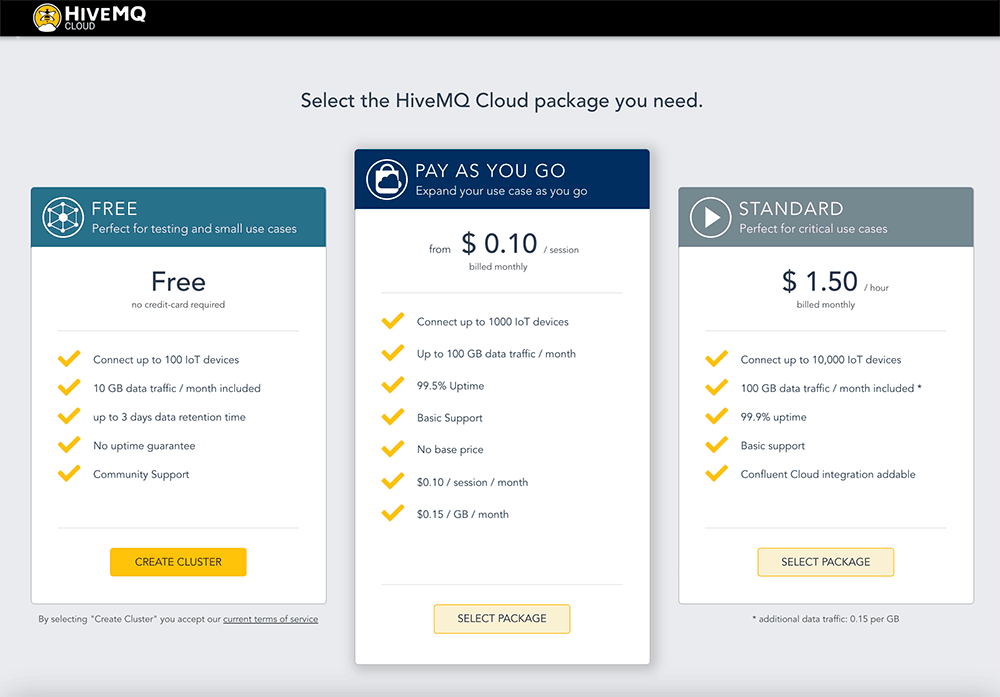 Grow with your needs
Having a free option to connect a few clients is awesome, especially for example projects in learning environments or small proof of concepts. But what happens if you want to move your first solution into production? What happens if 100 client sessions are not enough for you? Luckily we now have a solution for you.
We are very proud to announce the availability of HiveMQ Cloud Pay As You Go.
This new HiveMQ Cloud plan offers you the possibility to grow your business and pay only for what you have used. Moreover this plan does not only allow you to connect more clients and use more data, it also provides you with the value you need to realize a real production use case. Pay As You Go comes with an uptime guarantee of 99.5%, that allows you to realize production grade use cases. Additionally with this plan you will get access to our fantastic HiveMQ Support.
A pricing model, that lets you only pay for what you have used
Especially for small businesses and growing projects, a pricing model that grows with your needs is very important. HiveMQ Cloud Pay As You Go lets you only pay for what you have actually used in a month. Billing is based on the maximum number of MQTT client sessions that you have established and the data traffic that you have sent via the cluster in the corresponding month. To avoid getting a huge invoice at the end of the month our Pay As You Go plan is limited to 1000 client sessions and 100 GB data traffic. In case you need more than this, feel free to contact us. We are happy to help.
A seamless migration from Free to Pay As You Go
HiveMQ Cloud not only makes it easy for you to start your IoT journey, but also to continue with it. That is why it is important to us to provide you with a seamless migration experience from Free to Pay As You Go. Create your PoC, start your experiment or simply learn about MQTT with HiveMQ Cloud Free.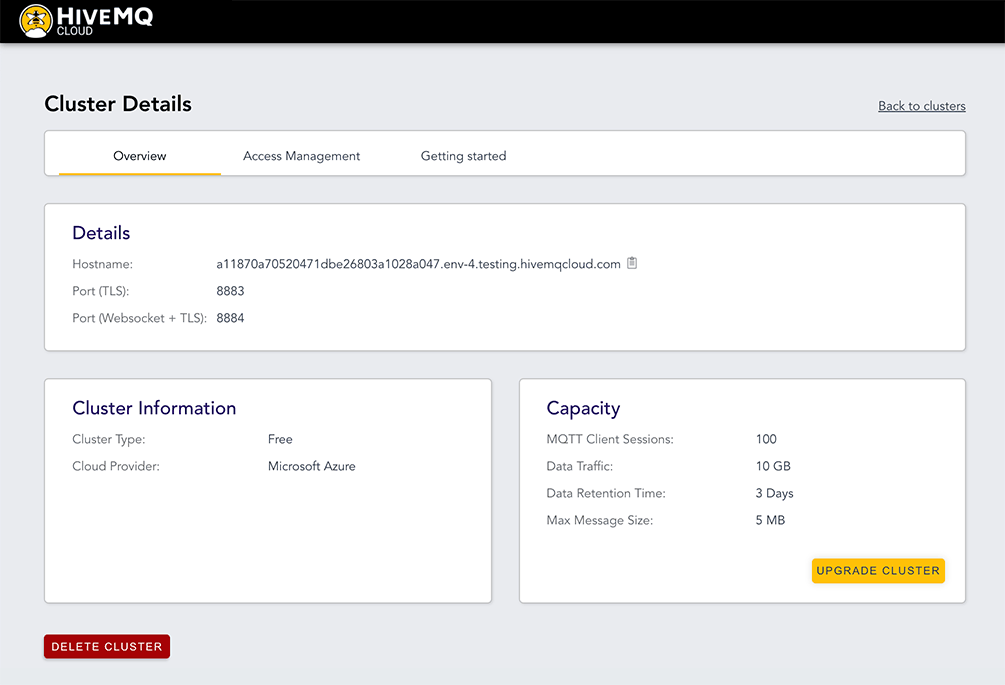 Once it's time for you to move to a plan that gives you more freedom and things that are relevant for a production environment, you can simply upgrade to HiveMQ Cloud Pay As You Go from within your HiveMQ Cloud Free cluster. The upgrade will take over the hostname of your MQTT Broker, all your active client sessions and your MQTT client credentials, so you do not have to worry about migrating this data on your own.