Upcoming Webinar
Unleashing the Power of IoT and MQTT in Transportation and Logistics Industry
A Live Webinar with Access to Reference Architectures
May 31, 2023
11 AM EDT / 4 PM BST / 5 PM CEST
IoT technology is enabling Transportation organizations to build smarter fleet management systems that improve fleet optimization, driver safety, and fuel efficiency. Drones are also changing the way goods are transported, providing new modes of transportation. However, the challenge lies in providing real-time directional messaging and connectivity as vehicles move through unreliable cellular networks, leading to dropped connections and significant network latency.
This is where MQTT technology comes into play. Learn how MQTT can:
Integrate bi-directional data flow with other enterprise systems for scheduling, dashboards, and supply chain systems.
Help maintain a persistent always-on connection between vehicles and the cloud
Guarantee reliable data delivery, enable secure non-addressable clients to prevent cyber-attacks
Are you a solution or IT architect looking to revolutionize your organization's transportation and logistics operations? Look no further! This webinar will explore how IoT and MQTT technology are game changers in the transportation and logistics industry. We will show reference architectures that will help you take your logistics operations to the next level.
Join Ravi Subramanyan, Director of Industry Solutions, Manufacturing, at HiveMQ, in this technical deep dive webinar on how IoT and MQTT technology can enhance logistics operations, streamline fleet management, and reduce costs. Don't miss out on this opportunity to learn from industry experts.
Register now.
About the Speaker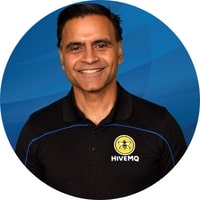 Ravi Subramanyan is Director of Industry Solutions, Manufacturing, at HiveMQ. He is a Product Marketing and Management leader with extensive experience delivering high-quality products and services that have generated revenues and cost savings of over $10B for companies such as Motorola, GE, Bosch, and Weir. Mr. Subramanyan has successfully launched products, established branding, and created product advertisements and marketing campaigns for global and regional business teams.
Email Contact
Ravi Subramanyan on LinkedIn
Register now