Enabling Supply Chain Resilience for the Pharma Manufacturing Industry
The pandemic revealed that supply chains are not resilient to sudden change or issues with production. In the pharma manufacturing industry in particular, there was a dramatic spike in demand for vaccines and drugs along with increased regulatory reporting requirements from the FDA and other governing bodies. These factors increased the focus in pharma on Digital Transformation, Industry 4.0, and the Industrial Internet of Things (IIoT). Pharma manufacturing companies rely on HiveMQ to enable the creation of electronic batch records to strengthen their supply chains, streamline operations, and manage regulatory reporting for quality control.
Contact us for Pharma Manufacturing Data Solutions
Contact us to discuss how: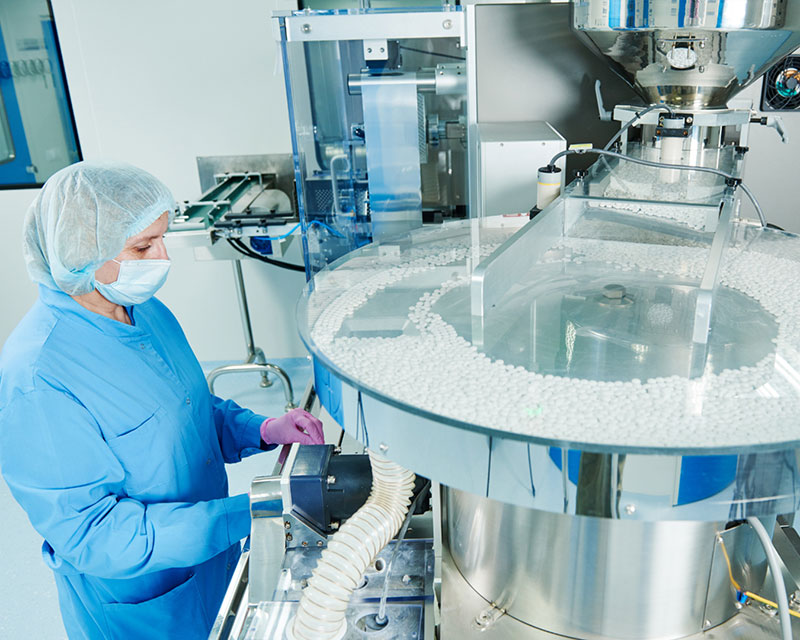 Overcoming Data Challenges to Power Digital Transformation in Pharma Manufacturing
Pharma manufacturing companies are powering Digital Transformation using IIoT and Industry 4.0., also coined as Pharma 4.0 to add health regulations best practices. Adopting IIoT technologies enhances product quality, improves process efficiencies, reduces cycle times, reduces scrap and rework, enables better adherence to regulatory guidelines and provides better visibility into the supply chain. However, there are a number of data challenges to overcome while implementing IIoT solutions, including:
Disparate systems that don't necessarily talk to each other seamlessly
Legacy infrastructure and manual processes, especially for regulatory reporting
Lack of strong connectivity availability and reliability
You need a solution that can consistently overcome these data challenges, and MQTT is a lightweight publish/subscribe protocol that does that by:
Deploying lightweight MQTT clients on various systems, allowing data to seamlessly flow between OT and IT systems through an MQTT broker
Connecting efficiently to existing infrastructure and thus avoiding huge investments
Enabling easy digitization of batch records that can be shared with technicians to perform operations and also used for regulatory compliance reporting
Providing simple and reliable data connections that work in poor connectivity environments, using less bandwidth
HiveMQ is an MQTT-based messaging platform designed for the fast, efficient, and reliable movement of data from pharma manufacturing plant machines, processes, applications, and supply chain to enterprise systems on premise or in the cloud to enable IIoT and Digital Transformation.
Discover the full features of the HiveMQ platform for building IIoT solutions for the pharma manufacturing industry.
Use Case 1: Pharma supply chain optimization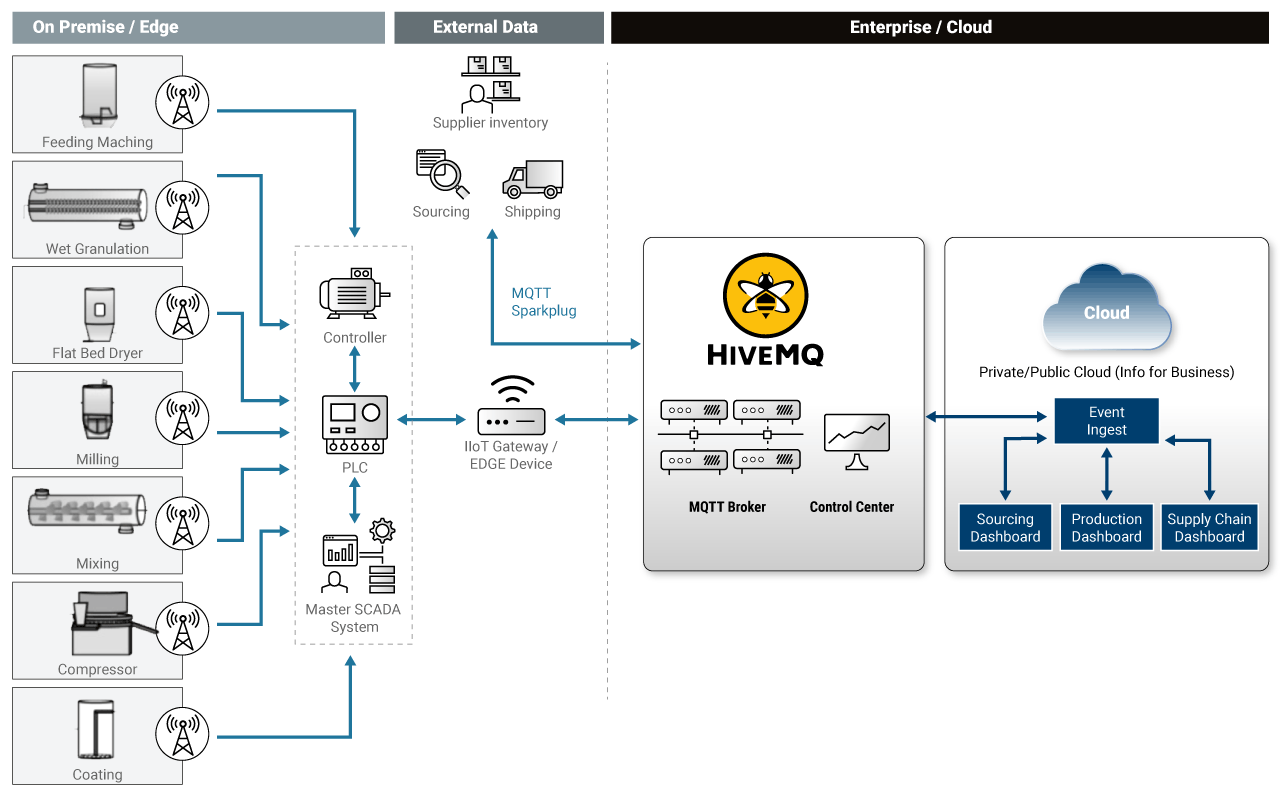 Use Case 2: Regulatory reporting enablement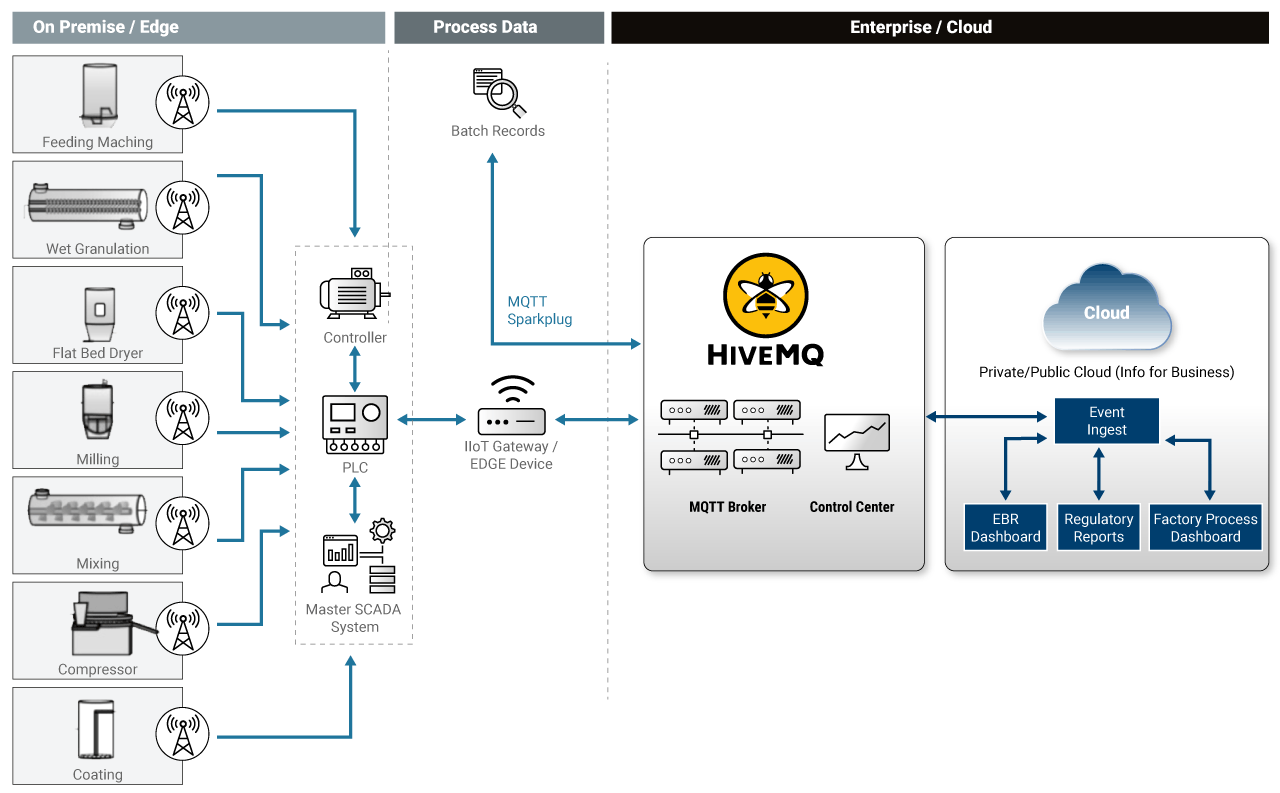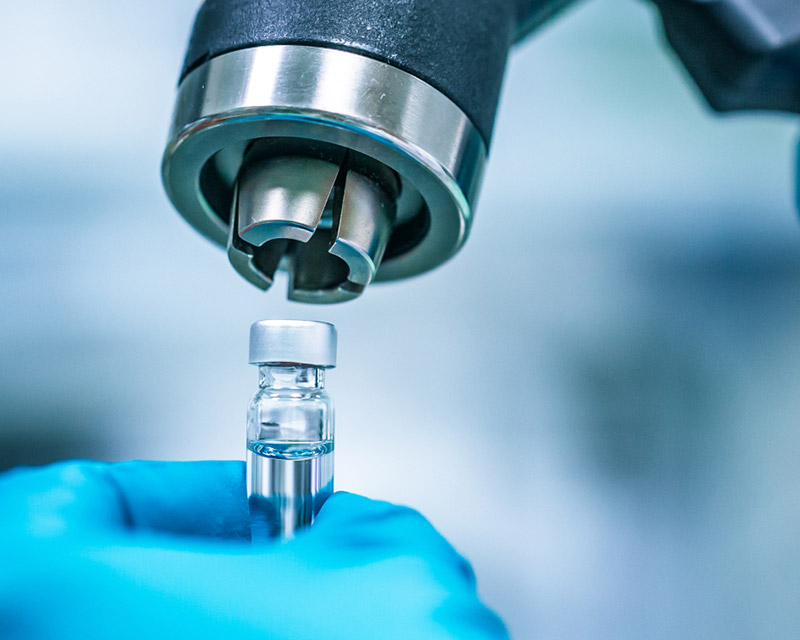 Powering Digitization in the Pharma Manufacturing Industry with IIoT and MQTT
Pharma manufacturing is making great strides in adopting Industrial Internet of Things (IIoT) technologies for Digital Transformation initiatives including cloud digital twins, analytics, machine learning and artificial intelligence. That said, pharma manufacturing still grapples with challenges that make it difficult to implement IIoT solutions including legacy equipment with proprietary protocols, unreliable connections and complex infrastructures. MQTT can help.
Download our white paper to understand how MQTT technology overcomes these challenges. Learn about the benefits of HiveMQ's MQTT broker and the additional features that Sparkplug can bring to power your pharma manufacturing Digital Transformation.