About the Extension
The Google Pub/Sub Extension seamlessly integrates HiveMQ's full-featured MQTT platform with the Google Cloud Platform. Here's what you can do with this Extension:
Send Data Directly to Google Cloud
Use HiveMQ's Broker and the Google Pub/Sub Extension to send data directly to the Google Cloud, circumventing Google IoT Core.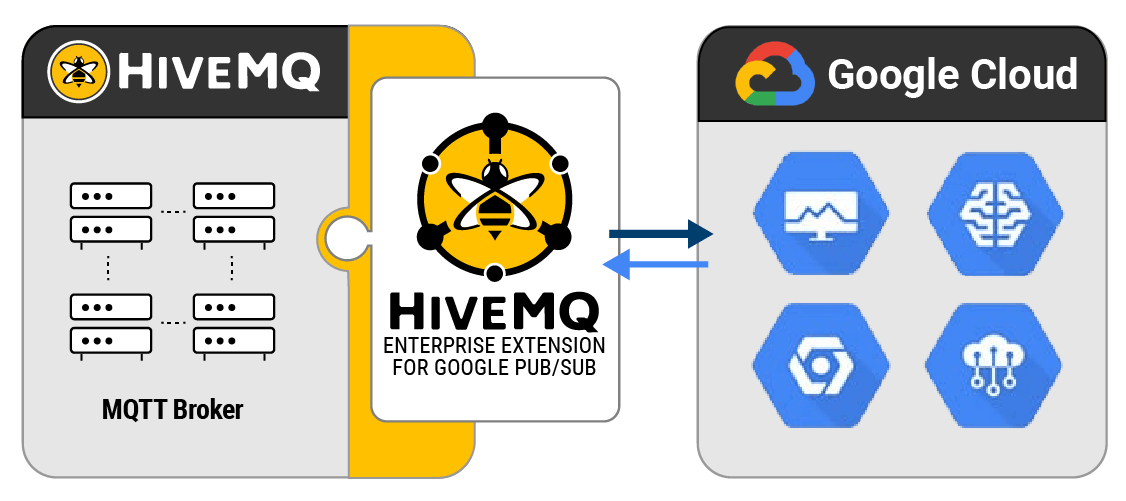 Bi-Directional Data Transformation via SDK
HiveMQ's Extensions SDK helps transform data bi-directionally to meet the specific needs of IoT applications.
Authenticate and Integrate Multiple Projects
Authenticate using Google Cloud's Service Accounts or WIF tokens and integrate multiple Google Cloud projects.


Flexibility: Future-Proof your IoT Environment
Adopt a platform-agnostic solution that works with multiple vendors.
Get much-needed flexibility by eliminating the dependency on Google IoT Core.
---
Need Help?
We're always happy to answer any questions you may have during installation. The best place to get in contact is our community forum.
Contact Sales
If you have any questions about this product or any others, please contact our sales team here.


Back to marketplace.