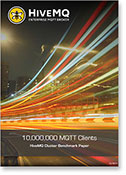 1.

Download the PDF

Download the PDF and see for yourself how large scale MQTT deployments can be realized on Amazon Webservices with billions of messages per hour and more than 10,000,000 concurrent MQTT connections which each simulate an IoT device.
2.

Talk to a HiveMQ expert about your use case

If you have any questions after reading the benchmark document, our team is more than happy to help. Our solution architects can help with IoT architecture questions and can help you deciding how to use the lessons learned from the benchmark document. Get in touch when you are ready.