Innovation Gallery Relies on HiveMQ for Superior Guest Experience
Deutsche Telekom AG is one of the world's leading integrated telecommunications companies, with some 178 million mobile customers, 28 million fixed-network lines, and 20 million broadband lines. The Telekom Design Gallery is Deutsche Telekom's future and innovation forum. Located in the Group Headquarter in Bonn, Germany, it provides a glimpse into life in the digitally connected world of tomorrow. The Design Gallery promotes a dialog on customer needs, technologies, and business areas of the future. Interactive, tangible, visionary, and realistic, the Telekom Design Gallery is experienced by more than 6,000 visitors every year in guided tours.
As a future platform, the Telekom Design Gallery is the interface between all business areas, partners, and customers. The gallery offers a range of formats, methods, and tools to develop innovative, customer-oriented solutions shoulder to shoulder with business customers and partners. Custom formats have been designed together with colleagues from Deutsche Telekom AG, Telekom Deutschland GmbH, and T-Systems International GmbH to showcase Deutsche Telekom's innovativeness to its customers and partners.
HiveMQ as Central Back-End Component
When the technical back-end of Telekom Design Gallery was completely renewed by ART+COM Studios in 2015, the team looked for not only a lightweight, easy-to-use, and stable technology (MQTT), but also for an enterprise-class implementation of that technology. Hosting a large and heterogeneous variety of different exhibits, the Telekom Design Gallery relied heavily on a stable central component.
The solution, therefore, was to host HiveMQ as a single node solution on a VMWare system in a docker container that is accessible throughout the exhibition in the internal network (LAN/WiFi). As the central communication interface for exhibition computers, mobile and IoT devices, the duties of the HiveMQ broker include forwarding user and application events, providing gallery states as retained messages (e.g. about the media technology), as well as providing individual tour configurations as retained messages, and forwarding commands to services that are usually connected to external interfaces (media technology server, SaaS). With slightly more than 100 connected clients and about 100 outgoing messages per second, one HiveMQ instance is sufficient for the whole exhibition.
HiveMQ fulfills some important requirements:
To control and interconnect a range of exhibits built by different partners, it needs to provide for easy integration without much protocol overhead and proprietary message passing. MQTT on HiveMQ provides exactly that, as it is easily plugged into existing demos.

In a representative corporate venue like Telekom Design Gallery, that is visited by thousands of guests – many of them on VIP level – stability is key, as a breakdown of central components would ruin the experience. HiveMQ has not failed to deliver a rock-solid performance without a single outage since 2015.

To showcase future experiences, low latency is a must. Any lags introduced by messaging overhead and central components cannot be tolerated. HiveMQ is blazingly fast and helps to convey the message of an interconnected future of services and devices without perceptible latencies.

As the MQTT broker was chosen not only for message passing but also for storage of global configuration data, HiveMQ's extension architecture made it easy to access this data and to make it available via HTTP web services. This allows for querying data independently from the pub/sub architecture and comes in handy for a range of different scenarios throughout the Telekom Design Gallery.
Exhibition at Telekom Design Gallery


Summing up the Experience with HiveMQ
As a forum for future and innovation, the Design Gallery constantly picks up on new ideas and explores them in different phases of everyday life. This requires a high degree of flexibility from the back-end systems. The event-driven control of the many devices and services by the means of the HiveMQ Broker provided the necessary flexibility and openness to integrate new ideas prototypically. Configurations and event interfaces for new use cases can thus be integrated with new topics. HiveMQ was chosen over other broker implementations such as e.g., Mosquitto because it is a supported product. In the very few cases where there were issues the competent HiveMQ support could help immediately. In 2015 already, HiveMQ was renowned for stability and speed, and it brought along its extension framework for easy integration of additional features. The plug-in system has enabled the Gallery to write an HTTP interface for retained topics that certain clients can access. The use of HiveMQ has developed into a great success story for the Telekom Design Gallery. "
"The product has since 2015 not failed to deliver on its reputation. The broker has proven to be rock-stable, the support team was very fast and helpful in responding to whatever questions came up. In hindsight, choosing HiveMQ was one of the best decisions in redesigning the Back End infrastructure of the Telekom Design Gallery. We have been using HiveMQ as a central messaging component for Telekom Design Gallery for over four years now. In all those years, we have not experienced a single unplanned outage! The impressive HiveMQ performance provides an immersive experience for our users," said Till Schäfers, Technical Director of the Telekom Design Gallery.
Other Projects Outside the Design Gallery
ART+COM Studios' team built up and maintained HiveMQ within the Telekom Design Gallery. The team has a lot of experience with HiveMQ/MQTT and the associated possibilities. Since ART+COM Studios is convinced of the technology stack, they also used the HiveMQ broker successfully as a core component in the recently opened "Futurium" exhibition in Berlin.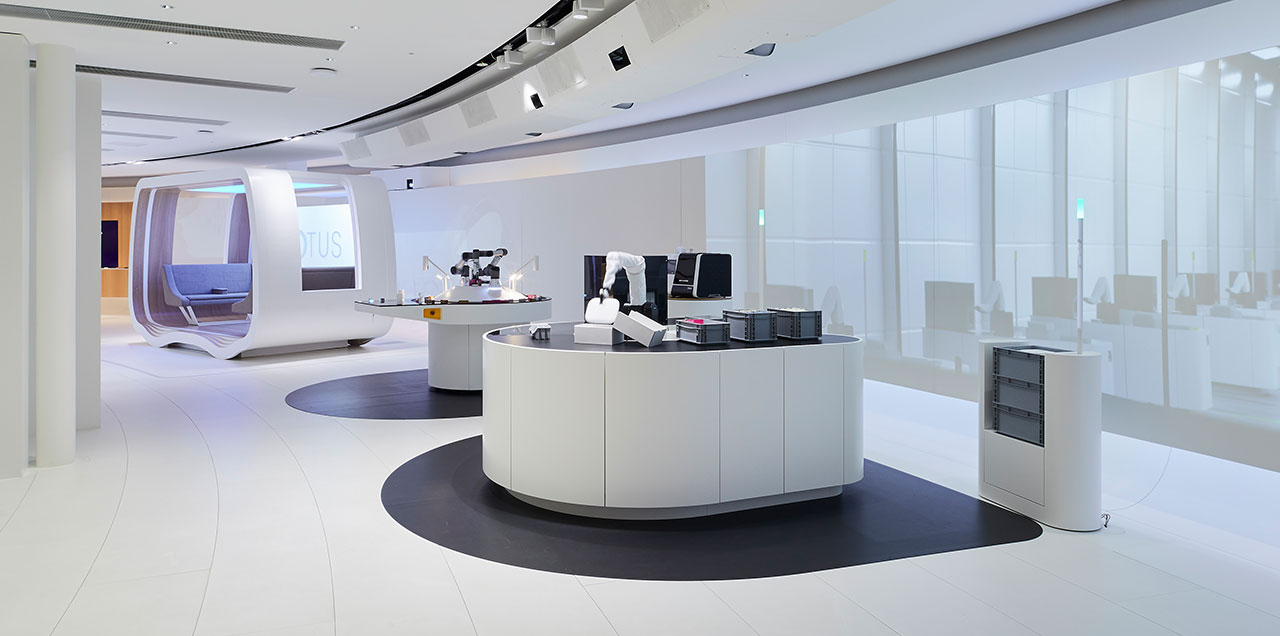 Telekom Design Gallery