Improving User Experience with Accessible, Connected Kitchen Appliances
CASO Design is a German company that makes a modern innovative brand of designer kitchen appliances. Founded in 2003, the company initially sold mobile induction tabletops and has continuously expanded its product portfolio to position itself as an innovative brand of kitchen applications.
Today, they offer smart app-controlled kitchen devices and are one of the first brands to address the fusion of the kitchen and mobile applications.
CASO Design started building connected appliances in 2016. The goal was to enhance their brand value by creating a unique user experience through connected and more accessible kitchen appliances. Since January 2017, a number of connected products have been available:
Their wine cooler, the CASO WineComfort Smart, guarantees to save the quality of wines. Connected to the CASO Control app, users can conveniently control the appliance from almost anywhere. The App monitors and reports any error messages in a matter of seconds, e.g. temperature fluctuations to ensure wines are stored in the right conditions.

The CASO SousVide Cooker SV 1200 /Pro is another smart appliance with simple handling for flexible SousVide cooking of Michelin Star meat quality. The device is also connected with the CASO Control App which allows the user to precisely control water temperature and levels as well as set cooking timers.

Vacuum bags and foils for CASO vacuum systems contain labels with QR code. Stickers with QR codes on the food are scanned by the CASO Food Manager app which records them in the food list. So users can get an idea of the supplies in their fridges or freezers at any time and see which goods are available, missing or need to be used up.

In the future, they also plan to launch a smart microwave that can be managed over their Control app.
Selecting MQTT over Bluetooth to Connect IoT Products
CASO's vision was that users should be able to control wine coolers or cook perfect sous-vide from anywhere, even outside of the home. They needed a solution that could meet the following requirements:
Kitchen appliances can be managed from virtually anywhere,

Data can be shared between different applications,

Multiple users can control the same appliance,

No downtimes for users even when updates are rolled out
CASO considered a number of different technologies for their connected appliances platform. They initially considered using Bluetooth and UDP to connect the mobile phone app to the appliance. However, they quickly realized that Bluetooth would require the user to be physically close to the appliance in order to connect.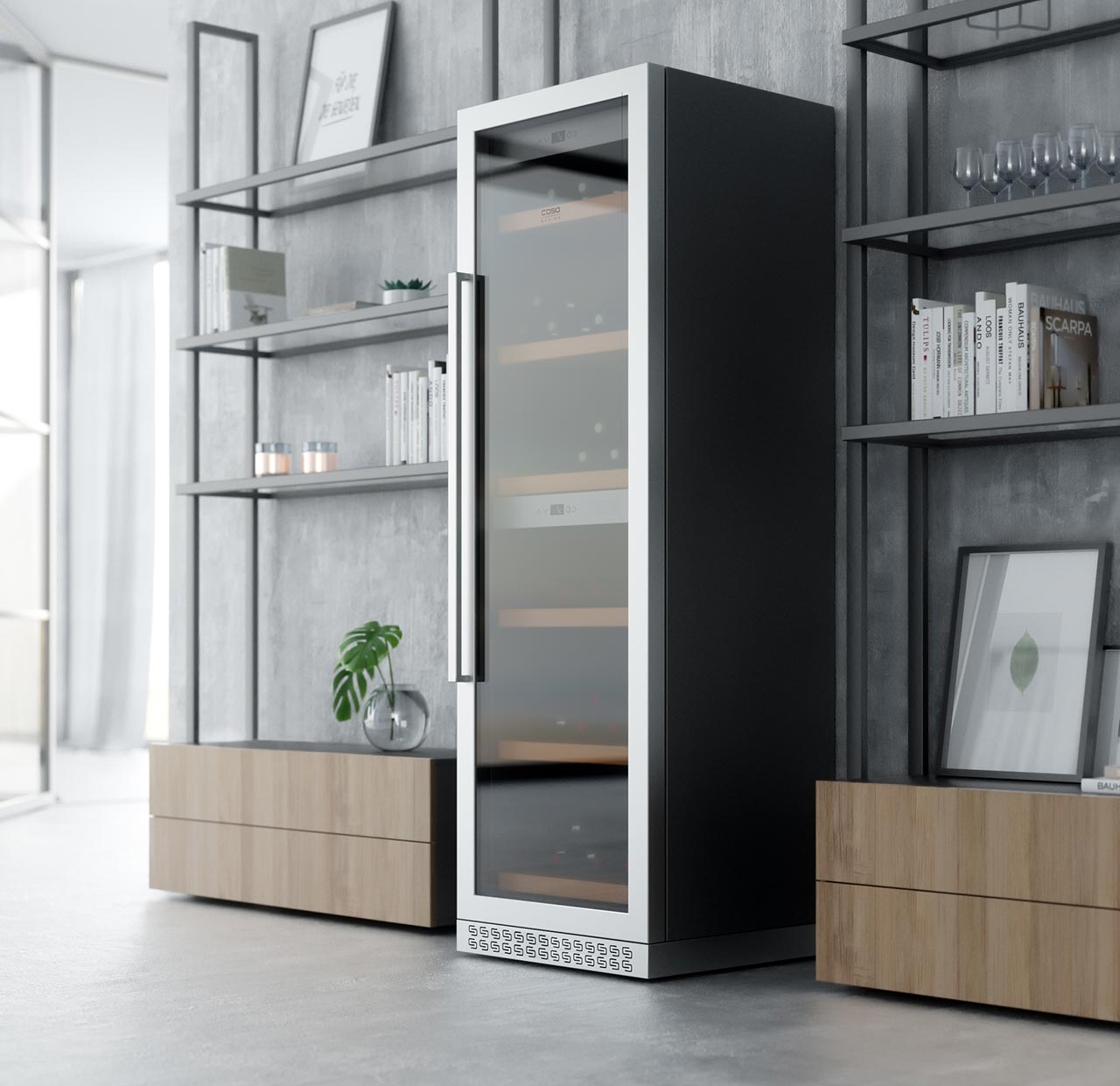 App-controlled wine temperature control device by CASO Design

CASO discovered MQTT was the perfect solution to meet their requirements. MQTT can connect to appliances through WiFi or cellular so the mobile application could be used outside the home. The MQTT publish/subscribe protocol decouples the different clients so it would be possible for different users to be able to connect and control the same appliance. MQTT enables the remote management of the desired and current temperature between the CASO Control App and kitchen appliances. For instance, when using the application for sous-vide cooking, MQTT messages are sent to set timers and the end-user receives push notifications once water levels are too low or cooking time is over.
Relying on an Experienced Partner with Extensive Knowledge Base
When looking for a suitable MQTT broker, CASO Design considered different MQTT broker solutions such as HiveMQ, Mosquitto or RabbitMQ. They selected HiveMQ as their central messaging platform since they valued HiveMQ's expertise in creating IoT connected applications.
"When we started our project it was very important for us to have a strong partner with lots of MQTT expertise." said Christian Schmidt, Head of IoT, "Without a doubt, the HiveMQ team are the experts on MQTT. They have lots of very useful online MQTT articles, their staff is on the OASIS MQTT Technical Committee and their support team is very responsive. In HiveMQ, we found a strong and reliable partner."
Another important consideration for CASO Design was HiveMQ's elastic clustering architecture which ensures high availability of their service and not losing data even when one cluster node fails. HiveMQ also has the option to roll out updates without bringing the overall system down, so CASO is able to continue servicing their customers during system upgrades. CASO Design's IoT products have been running on HiveMQ for over 3 years now. Today, CASO Design already has several thousand devices connected and expects to double this number by the end of the year. CASO Design runs HiveMQ in the Azure Cloud. A MQTT logging service running on Azure will forward all MQTT messages into a CosmosDB. Mobile apps and web apps visualize the MQTT data and enable the customer to control their devices from anywhere in the world.
"Our connected product strategy is considered a big success for our business," concludes Mr. Schmidt. "The new connected user experience has reinforced our brand of creating innovative products. This wouldn't have been possible without using MQTT and HiveMQ. The HiveMQ solution is something we trust and recommend."